Rent A Bin
Versatile Waste Solutions for Any Clean Up Project
Have a large clean up project? Robinson Waste provides a variety of waste dumpsters to suit your needs at an incredible rate. Your container can be delivered to any location of your choice usually within in a day of requesting it or less!
Roof jobs
Spring or Fall cleanups
Remodels
Large landscaping cleanups
Basement clean outs
Or any other project you might have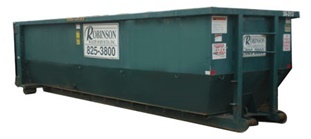 Not sure what size of dumpster you need? Here are some helpful tips for selecting dumpster sizes. Roll off dumpsters are measured in cubic yards. As a point of reference, 1 cubicyard = 27 square feet. As a general guide, the following dumpster sizes have been outlined below to help you determine the size you may need.